Working hours registration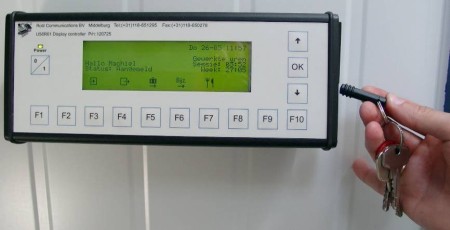 Through this transponder, each employee can register his/her own working hours. The status of the employee (for example; signed on, signed off, out for lunch) is being registered and saved. The worked hours can be read by the administration department to process it for the weekly/monthly salary payment. This works particularly well with flexible working hours or shifts.
This is the modern version of the conventional punch card.
Name
Working hours registration controller
Serial number
200618
Description
Useable for registration of individual working hours. These are being shown on the display. The registration tables are retrieved by the computer and are processed in the accountancy software.
Interface
Serial
Voltage
8 – 30V=
200 – 600mA
Software
Working hours registration, by means of codes (i.e. signed on, signed off, out for lunch, etc.), each employee registers his working hours. These are being shown on the display. The registration tables are retrieved by the computer and are processed in the accountancy software.
Optional
Access control PC software
Screenshots pc-software