Ground Support Equipment Communications System
We developed a powerful and unique communication system for aircraft tractors at Schiphol airport. Because this system expanded with the qualifications of the shunters, the aircraft push-back can now be done by a single person. Almost all aircraft tractors at Schiphol airport are equipped with this unique communication system.
The system serves all necessary communication between an aircraft tractor and the aircraft during the shunt and pushback. The aircraft tractor shunter can use a radio link to communicate easily with both aircraft and control center in the traffic tower.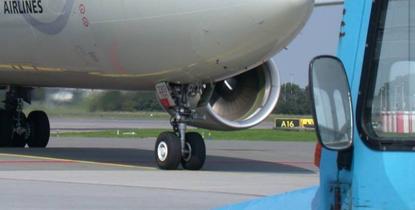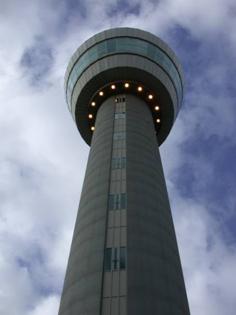 Using the hearing-protection enabled headsets of David Clark, we can offer a comfortable way to communicate with the aircraft as well as with any kind of radio or CB-radio. This makes sure the working conditions are optimal at all times.
The Ground Support Equipment Communications System has been designed to always keep functioning, even in very rough environments.
Schematic view of the GSECS in a towbarless aircraft tractor: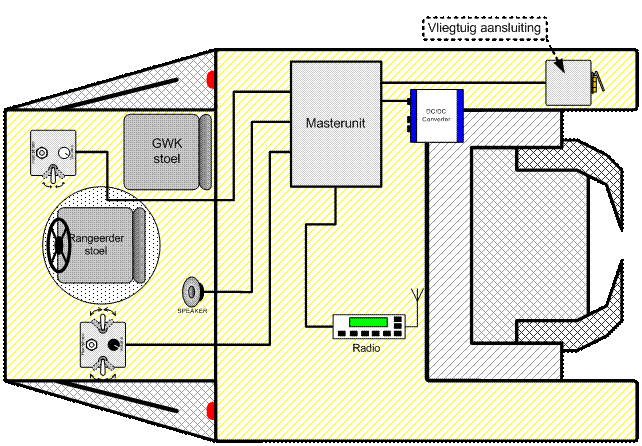 The GSEC System is perfectly fitted to be installed at towbarless aircraft tractor, on which the driver / shunter has more than one function. With all communication possibilities offered by the system, it is possible that the driver of the tractor can only be shunting the aircraft. Of course a high level of security is guaranteed.
Our communication system is not only useable at airports. With several simple adjustments, we can make this system work in all kinds of other situations. Practically any place where one person has to communicate with two other persons, alternating, you can benefit from using our system.
Master unit GSECS: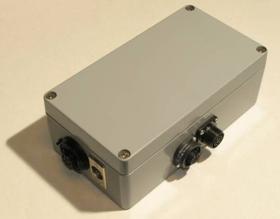 User interface / tractor operating part GSECS: